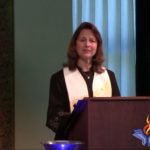 Minister's Column November 2019 – Attention
As we begin this month focused on the theme of 'Attention', I am particularly struck by the poetry of Mary Oliver. Her work is an exquisite exercise in paying attention to beauty in the world, making the ordinary extraordinary through her attentive noticing. Mary Oliver teaches us how to pay attention, and what to pay attention to. She gives us an example of that in her poem, Gratitude, which you can find at this link:
https://thevalueofsparrows.com/2013/11/27/poetry-gratitude-by-mary-oliver/.
In it she asks:
 What did you notice?
What did you hear?
When did you admire?
What astonished you?
What would you like to see again?
What was most tender?
What was most wonderful?
What did you think was happening?
These questions are good ones to reflect upon during this month of attention. You might take this list with you for a day and stop several times throughout the day to ask them. It's a way of noticing and appreciating what's around you. It's a primer on how to pay attention. It's a call for gratitude in the moment.
I'm excited by this month's theme and invite you to start noticing where you pay attention in your life. Because, as you'll hear this Sunday, where you pay attention matters. It matters for the kind of world we want to create. It matters for our own sanity and happiness. It matters to those around you. We co-create the reality we share by where we focus our attention, so it's a matter of utmost importance.
Join us this Sunday to explore this theme. Then stay for our bi-annual Social Action Gathering from 12:30 – 2:30 to get an overview of where we are placing our attention and what we are doing with our justice ministries. Next Sunday, we'll be exploring the rhythms of life and looking at the power of music and rhythm to transform our lives. Then, on November 17, Darcey Lober will lead us in a service focused on the importance of our breath. For our last Sunday in November, our Thanksgiving service will feature a special harvest bread communion. We'll examine how placing our attention on planting seeds can grow the kind of future we hope to create for our planet. Please join us for all these services, as they build on one another.
We hope to see you around Chalice, focusing your attention on all the wonderful things we do together.
In faith and joy,
Rev Nica