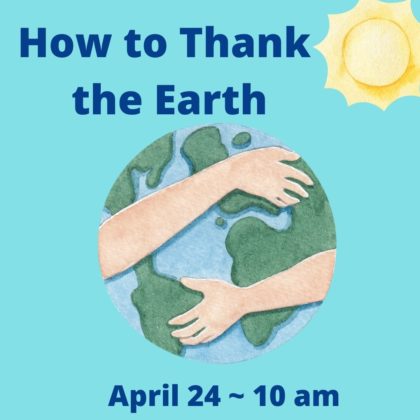 Shane Niebergall
How to Thank the Earth
Let's celebrate Earth Day by giving back to our earth, who gives so much to us. Learn about why taking care of our planet is so important, and leave with practical ideas on how you can give back to our home spaceship.
April Theme- Awakening 
Prelude- Anthony Concepcion 
Welcome- Shane Niebergall 
Introduction- Ayanna Gaines 
Call to Worship- Shane Niebergall 
Chalice Lighting-  The Niebergall Family
Opening Hymn– #21  For the Beauty of the Earth
Time for All Ages – Tiny Perfect Things by M.H. Clark. Read by Ayanna Gaines. 
Offering Words – Ayanna  Gaines 
Offering Music –  Somewhere Over the Rainbow performed by "IZ" Kamalawiwo-ole https://youtu.be/V1bFr2SWP1I
Joys and Sorrows – You may write your Joys and Sorrows in the chatbox during the service.
Singing the Children Out- Anthony Concepcion 
Time of Meditation- Shane Niebergall 
Meditation Song – #1070  Mother I Feel  You
Sermon – How to Thank the Earth – Shane  Niebergall
Closing Hymn – #1074  Turn  the World Around
Benediction – Shane Niebergall
Announcements – Ayanna Gaines 
Postlude – Anthony Concepcion
Break-out Rooms:
Service Discussion and Newcomers 

Social Justice- actions and discussion 

70+ Seniors