Online and In Person – 10 am Sunday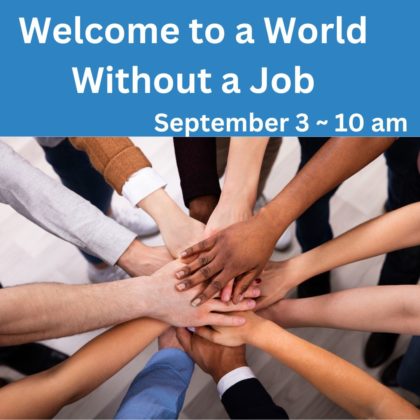 Rick Wells 
Welcome to a World Without a Job 
This Labor Day we celebrate the workers of our country. That used to be me. I was a teacher here in The Conejo Valley School District. I retired just before COVID. I enjoyed being a teacher. I had great people to work with, including my administrators. I was also very involved with my union. Unions have done a lot for the workers of the world. Today we will look how unions have helped workers be listened to and not abused and how Chalice has taken the place of my union now that I am retired.
Welcome – Rick Wells
Introduction – Claudia Barton
Chalice Lighting – TBD
Opening Hymn – #67 We Sing Now Together
Time for All Ages – The Button Factory Song. – Rick Wells and Samantha Dickerson
Manna Collection – Sam Dickerson
Offering Words – Claudia Barton
Offering Music –  9 to 5, written by Dolly Parton. 
Joys and Sorrows – You may write your Joys and Sorrows in the chatbox during the service if you are online. If you are in person please fill out an index card. You can email them during the week to worship@chaliceuu.org
Time for Meditation – Claudia Barton
Meditation song – #145 As Tranquil Streams 
Sermon: Welcome to a World Without a Job – Rick Wells
Closing Hymn – The UU Bop, a repurposed camp song
Benediction – Rick Wells
Announcements – Claudia Barton
Extinguishing the Chalice – Rick Wells
Postlude – Anthony Concepcion