RE at Chalice!
A place for wonder. A place for fun.
Welcome, welcome everyone!
---
Chalice Weekly Family Update
December 17, 2020
December's theme is… Stillness
---
Sunday Morning Service at 10am 
Winter Solstice
with special guest Christine Blasman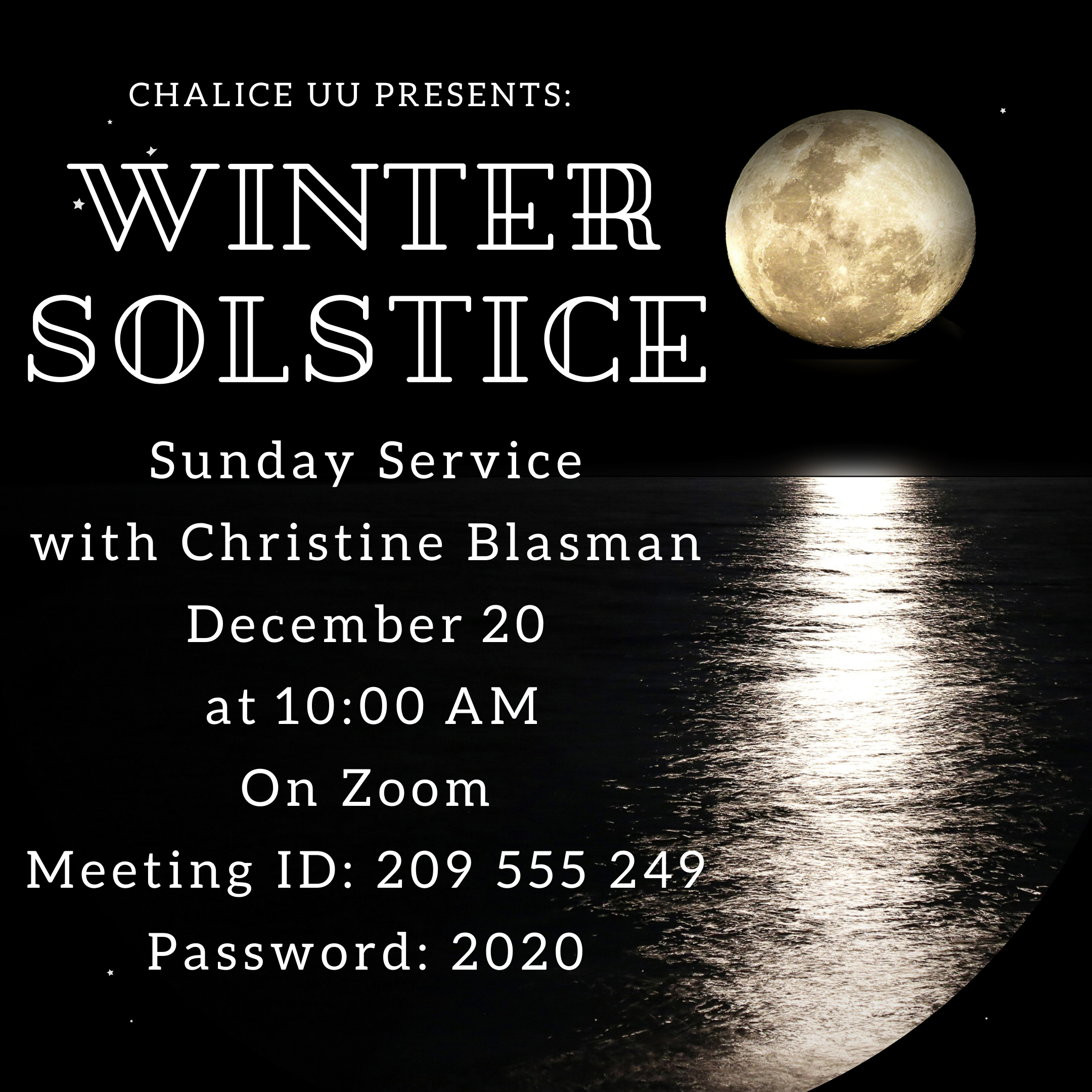 Winter Solstice is a celebration of the longest night, a time where embracing our darkness is a springboard to personal growth and change. Come celebrate the beauty of winter solstice through music, words and visuals. Experience the serenity of solstice, a time to reflect and rejuvenate. Together we will walk through a simple exercise of letting go and looking into the future. Please have a piece of paper and pencil with you.
---
Family Chapel
9-9:30am
Enjoy music, stories, and checking in with friends. Ideal for younger children through third grade but all are welcome!
---
Coming up for January – Crossing Paths: Quakerism
Registration opens December 15
Sessions start January 10
Open to 4th through 8th graders, we explore a different religion each month through videos, discussions, and activities. This is highly recommended to youth in 7th and 8th grade, offering a strong base when they begin Coming of Age in the 2021-22 church year.
The link for this program will be sent to those who are registered.
For more information contact your DRE Sam Dickerson at

dre@chaliceuu.org.
---
 Camp Connect – A DeBenniville Pines Virtual Experience
This month at Camp Connect, Kids Connect through Fun and Games with Kathleen Moscato, Elementary Camp Dean
    Tuesday, December 22, 2020/ 3:00 – 4:30 p.m

. free – (youth in grades K-5 and their families)
Virtual UU Senior High "NUU Year" 20/21 Camp Connections
Thursday-Sunday, December 31, 2020 – 3, 2021/

daily (youth currently in grades 9-12)
Find more information

here

. Register

here

before it fills up!
Questions?  Email Camping Ministries Director, Marianne Swift-Gifford at

cm@uucamp.org
 Save the Date:
UU Elementary Winter Camp Connections with Shannon and Bill Stoker, Elementary Winter Camp Deans
     

Friday-Sunday, February 5 – 7, 2021

/ daily (youth currently in grades K-5)
If you have any questions, please contact them at

campconnect@uucamp.org.
---

Pacific Western Region offerings for UU Youth
Register here – Scholarships available through Chalice RE

Register here – Scholarships available through Chalice RE
Ask any teen that has been to a Youth Con and they will wax poetic on how amazing they are. Now there is one open to Middle Schoolers!
Register here – Scholarships available through Chalice RE
---

Winter Solstice is December 21!
The longest night of the year is almost upon us! How will you welcome the return of the light as our days begin to lengthen?
Circle Sanctuary offers a long list of ideas and how to construct your own family rituals. Firelight Camps also offers some simple ways for the whole family to enjoy the Solstice.
Don't forget! This Sunday we will hold our Winter Solstice service at 10am. Then later that evening is a Ritual for the Darkest Night at 6pm. Please check News and Notes for more details.
---
Here we come a-caroling!
This Friday at 7pm enjoy a Christmas Carol Singalong with our Chalice family and friends and led by our Music Director, Anthony Concepcion.
There will be singing!
There will be merriment!
There will be Santa reading Twas the Night Before Christmas!
Pull on your cozy pajamas and pour the hot cocoa. It's time to feel the Christmas spirit!
Meeting ID: 998 6654 8206     Passcode: 970008
---

Don't forget about our Christmas Eve service!
December 24, 5pm
Chalice will join together with the Unitarian Society of Santa Barbara for this inspiring evening filled with music, stories, and candlelight. We will honor old traditions and welcome in new ones. Plus, we will be treated by a special appearance by some of our Young UUs from Chalice. Your family won't want to miss this service!
Don't forget to bring your candles for Silent Night!
---
Our mission: Religious Education empowers children and youth and supports families with tools to create a world of justice and compassion.